Cobra 148 GTL Audio and Power Mods.
A simple way to really increase the audio of a Cobra 148 GTL CB radio is to find R126 and jumper it. It is a 10K ohm resistor about 1" to the LEFT of the MIC jack.
Do NOT remove the TR25 Mod Limiter on this radio, as it will sound like crap later.
---
To add extra channels install 2 switches in the radio, or use the HI/LOW and BRT/DIM switches on the front.
My friend wanted 2 new switches on the rear, so thats what I did with this radio.
You will need 2 SPST switches.
Find the PLL IC and find pins 10, 11 and 12 and the large Ground trace near pin 10.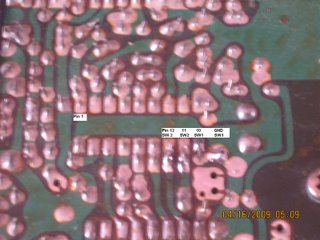 Wire Switch 1 to Pin 10 (pin goes to nothing) and also to GND pad.
Wire Switch 2 to pin 11 and pin 12.
Be very careful to not use too much heat on the IC pins, and they are fragile and you can damage the PLL chip. Use a 30watt max solder pencil.