Cobra 25, 29 Uniden PC 66, 68, 78 Talkback Mod
This is a easy $1 mod to add talkback to your CB Radio.
This will work for the following radios with no problems.
Cobra 25
Cobra29
Uniden 66
Uniden 68
Uniden 76
Uniden 78
and many more.
All you need is a simple resistor added to the bottom of the board, near the Ext and Pa speaker jacks.
Find the 2 solder points, closest to the rear of the radio, directly above the EXT and Pa jacks.
These are going to be the Negative or Ground side for the audio.
Solder a 1/4 or 1/2 watt resistor between these two solder points. Make sure that the resistor itself does not short out anything on the board or touch anything else. You can wrap it in tape, heat shrink or just keep it lifted slightly above the board.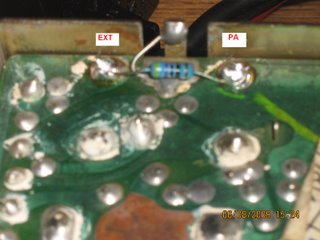 Use a 100-500 ohm resistor.
The Lower the resistance is, the Louder it will be.
A 100 ohm will be Louder than a 470 ohm.
I like to use a 220 for most mics, or a 470 for good power mics.
You can also wire up a 1K variable pot to adjust the volume level.
You can also use a switch to turn it on/off, just wire it in series.
Ive used the Norm/Ch9/Ch19 switch as a Off/Low/Hi with 2 resistors, to make it adjustable for different mics or volume levels.
Thats it! Just 2 solder points for basic talkback.
Labels: Audio, CB, CB Radios, Cobra, Mod Audio, Talkback, Uniden